Lunch at Gore Core…
From left to right: Sean (Jeane Poole), Robert, Grant and Mark out by the car, Steve Law and Bunny.
Same, but this time with feeling…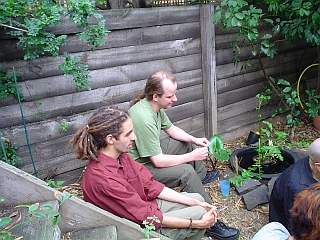 From left to right: Paul Abad and Ross Bencina. It was Paul who helped to get Robert out to Australia.
We leave for the park in Grant's EK. It breaks down. We learn that to get it going we need to "thrash the shifter", a term Robert found amusing so much so we laughed outragously till we arrived at Edinburgh Gardens, Fitzroy.
Alan and co have been known for organising frequent Sunday arvo gatherings with battery powered PA and frisbies. We were due to play this fine afternoon, the rain taunting us all the while.
Grant did a great job getting us about and around Melbourne over the weekend. Safe and sound in the EK. Every driver deserves a beer at the end of a day long arching steers!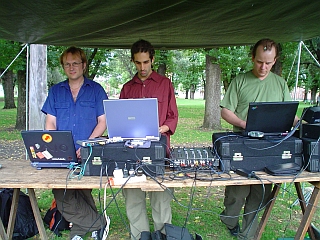 Left to right: Myself, Paul Abad and Ross Bencina, author of the infamous AudioMulch.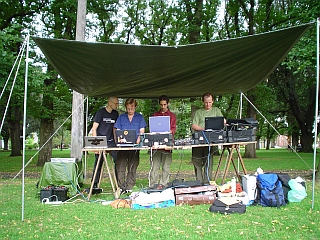 Left to right: Robert and the rest of what turned to be 5 of us…
The Terminal Quintet! Special guest appearance of the silent, but generous Steve Law.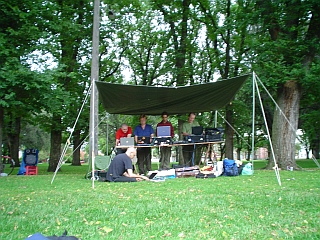 I think we played at least two or so hours. It rained but no one cared much. The music was great, it was warm and plenty of friendly people :^)
Photos: Justina + Andrew