This was actually the first meal I'd had in Bulgaria and it was consumed at Sofia airport. It was a kind of stew with egg… the egg was actually baked!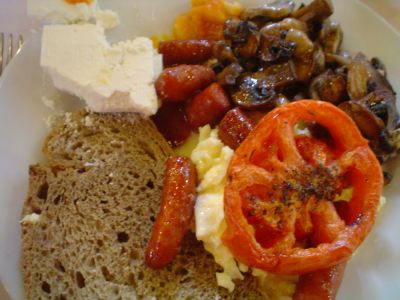 A typical breakfast… I've had two here now and it's unlikely I'll photograph each and every one… much like lunch and dinner, each meal seems to resemble the next.
A kind of shredded beet salad served up with lunch, typically pork and gravey… today we had tomato sauce with peppers… What, no photos? Sorry, I ate each server faster than I could get to the camera. Why? Well, whilst others complained, I dug in as so much of this food I hadn't eaten since I was last in Eastern Europe and prior to that, at the family dinner table. Yum! Better start running on that beach!!!
Rice ball with yoghurt, cucumber and onion. Goes down well with a thick slice of black bread and unsalted butter.