An evening meal at Steve and Bunny's is something to really look forward to, especially if chilli prawns, Szechuan style, is on the menu.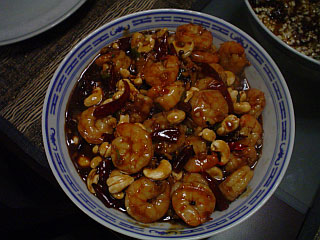 The fabulous, much hungered for chilli prawns. Ever since we saw them cooked up on Iron Chef we've been "hangin out".
An unusual beef dish. This is where the flavours went to places I had not sensed before… or at least that's what I thought until we got stuck into…
… the tofu! This was exceptional! Our favourite… sweet, sour, tangy, spicey… and a whole lot of other words we are yet to find.
We had both experienced entirely new tastes complimented by a chilled red wine and finished off with 2 course desert, mixed fruit and freshly backed chocolate brownies with ice cream set amidst a light pool of caramel sauce.