We will miss our little friend.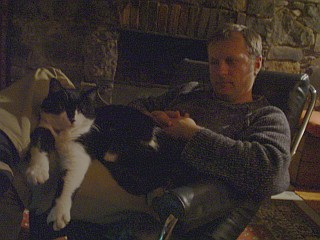 Farewell…
Supercat passed away around 1am, 26 May 2004. We were on the way to an 24 hour veterinary hospital. We were no more than 2 or so kilometers from home when he took his last breath. He had developed sudden breathing problems. He was clearly in pain and great discomfort. He left as swiftly as he had arrived.
Our fur pal touched so many. He was a constant in the studio, often sitting on the record cabinet watching us work, listening, occasionally resting. He spent his first night with us asleep behind the studio monitors. He spent much of his last night in the studio beneath the desk.
We buried him at the foot of the great gum in our back yard, facing the sun, at his favourite resting spot. Flowers from various friends brighten his resting space. I will miss our frequent conversations.