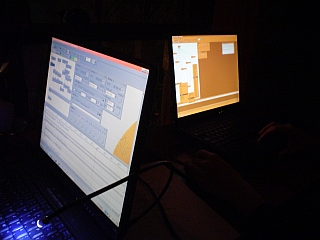 A small band of AudioMulch composers performed at Kent St Cafe/Bar on Smith St, Fitzroy. We didn't get a lot of documentation, but there was a video camera and some sound was recorded direct to it.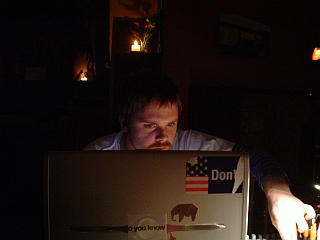 Andrew Sargeant (aka Future Eater) cranked up the evening with his crunchy monkey beats, pitch-shifted and filtered. The change-over from his piece to Ross's was seamless…
Ross performed a beautiful piece comprised of Asiastic sounds and voices. I was sitting outside as the piece commenced and it was a most appropriate sound for Smith Street, blending into its complex social structures and mixed cultural heritage.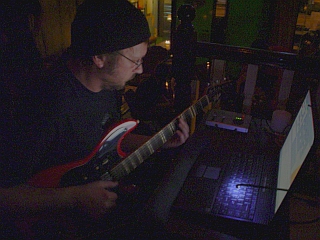 I played two pieces, but I could barely hear above the noise of the bar to make sense of what I was doing. Both pieces were delicately arranged, the first composed entirely of two vocal samples from a Vietnamese language CD.
The second was a response to the rise of "New Rome" (the US of bloody A of course) and how much more fucked up the world has become since. It commenced with a stand-up piece by George Carlin, bleeding into a subtle, but strong set of twisting kicks overshadowed by guitar chords that were processed through a kind of chord generator. The generator was derived from a Max patch I'd seen a flow-chart for, but I prefer the more eclectic results achieved via Mulch.
There were, however, a couple of things about this evening that were disappointing.
Firstly, I didn't really know who the other Mulch composers were and no one made much of an effort to introduce themselves… Perhaps something for the organisers to keep in mind next time. I tried to strike up a conversation with the chap who followed my performance, he too used a guitar, but that was about it.
It's quite rare to convene such events and as such, it would have been great to have met everyone, shared a drink or two and crap on about AudioMulch, etc…
Secondly, the bar noise was really really off-putting. I don't think I'm going to do another one of these again unless the venue is better prepared for such performances. For the effort I know people would have made, the results were, to my precious little ears, less than satisfying.
Keen to hear from anyone else should they have had an entirely different perspective…