My sister, Grace, left for Hobart this morning. She'd been with us just under a week.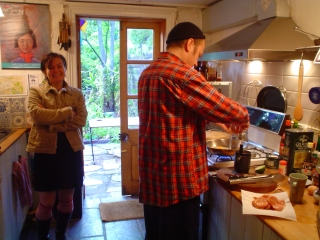 Preparing breakfast before the cab shoots her off to the airport… I could've done with another 5 hours sleep! There was another session around the fire till well after 2am … this morning!
Grace is an animator. Has been in the industry for some years now, starting off at Hanna Barbera in Sydney as a cell painter/in-betweener. She's now working with Blue Rocket who seem to be encouraging her to branch out.
We didn't get to spend a lot of time together as JC and I were so busy, but we do hope to see a lot more of her as airfares between Hobart and Melbourne are very cheap these days.
I used to crave to collaborate with members of my family. That craving has dimished in recent years, mostly due to my appreciation of their own aesthetic, no matter how close we may come to each others work, we are quite distinct from each other.
For a tasty selection of Grace's work go no further than Little Black Crow.
Brother Roderick was with us a little earlier and stayed for near on a couple of weeks. He too enjoyed the many evenings at the fire with our varied friends, commenting at how friendly people were to him in Melbourne.
He's back in Hobart now too with a promising PhD in the making…