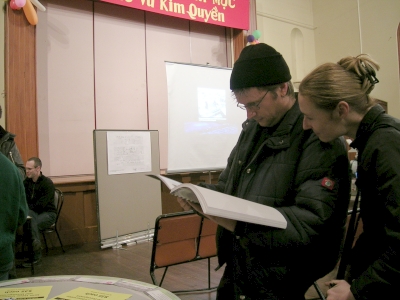 Justina and I participated in the Collingwood Action Group's Public Meeting on the 19th, bringing together Council, the local MP, researchers and the community to debate the proposed development on Smith Street.

The majority of us left feeling powerless, that due process is costly for any community group to oppose development applications, that we do so at our own risk and cost with fewer and fewer options available to us.
We reflected on our own campaign, specifically in opposition to the development application for the rear of 106 Gore Street. Speaking to former Mayor, Greg Barber, at the CAG meeting, gave me even less hope that we can affect the course of that proposal. However, he did suggest that residents could request an engineers report in defense of the Manna Gum. The engineer would enquire into the damage posed by the removal of the tree on foundations of the surrounding buildings.
For more photos from the meeting, turn to cag.smithstreet.org.
Photos: Daniel Stefanski