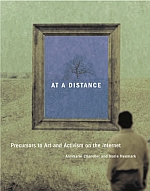 Over two years ago I was commissioned to write an essay for a book to document "Precursors to Art and Activism on the Internet". Edited by Annmarie Chandler and Norie Neumark, originally for University of Technology, Sydney, the book was finally published by MIT Press. It is a unique collection of works clarfies the fact that networked collaborations of artists did not begin on the internet.
The book can be purchased directly from MIT Press or ask at your local bookstore for a copy.
I'm quite proud to have been included in this publication. Unlike email, it feels great and smells good too!